Cool River Massage is located at Flow Yoga/Pilates at 7711 Grand Blvd, Port Richey. Booking online is the best way to make your appointments as very often, I am unable to answer the phone when I am working. If you are looking for a reliable therapist for a great deep tissue massage, this is the place you want. Get yourself on a regular massage schedule and start feeling better now! By apppointment only.
The Best of Deep Tissue Massage
 Targets the trouble spots and helps to eliminate them. You have come to the right place if this is the type of massage you love! Too many people tell me that they went somewhere else, and the deep tissue wasn't deep at all. That will never, ever happen here! Read my reviews and see what my clients have to say!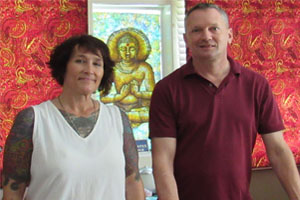 We Have Couples Massage!
You can now get enjoy couples massage at Cool River! Donna Joyce Foxwell, LMT has teamed up with me to allow us to be one of the only places in Pasco County where you can get a side by side massage with your partner, spouse, loved one or friend. We are pleased to offer you this popular service.
Couples massage services cannot be scheduled online, and advance notice is generally required.
The price is $55-$65 per person depending on the massage technique desired. Full 60 minutes.
Please Call or text Donna Joyce Foxwell, LMT to set up any couples massage service at (843)-714-0805
Sport Massage for Athletes
Calling all athletes, runners, bikers, hikers, swimmers, marathoners, and weekend warriors alike. Training for your sport is intense and your body feels it. You need specialized massage treatment to help you  perform your best. Combinations of massage, vibration and stretches tailored to your specific needs.